PERSPECTIVES 2007 – Festival for New Musical Scenes and Soundscapes 9-10 March 2007 VÄSTERÅS (SWE)
the Festival is now over! We collect at the moment material to the archive! Make your comments at [Perspectives 2007 Google Group]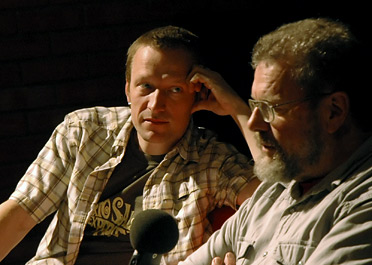 Dear festival visitor.
Welcome to PERSPECTIVES 2007!
After PERSPECTIVES 2004 we could not dear to stop! The theme this time put the new musical scenes in the spotlight together with the soundscapes produced by some of the worlds best young artists avaliable today.
Our slogan last festival was "Fight Global Stupidity!" this time we think this would be appropriate:
FIGHT LOCAL STUPIDITY!
See you there!
Lennart Nilsson
Festival management: Lennart Nilsson/ Nya Perspektiv
Curator: Mats Gustafsson
MC: Lars-Göran Ulander SR P2
Main Sound technician: Sigge Krantz
Main Light technician: Dick Olofsson
Website, printed matter: Tomas Nygren
Ads, posters, flyers: Mikael Keysendal
Tickets, information, personal: Helena Pettersson
Transportation: Anders Nilsson
Artistic works box 1: Leif Elggren
Artistic works box 2: Jennifer Espling

Swedish Radio SR P2 will record all concerts in box 1

Represented international festivals:
Barcelona (Spain): www.arcoyflecha.es
Hasselt (Belgium): www.kunstencentrumbelgie.com, www.open-circuit.com
Lissabon (Portugal): www.cleanfeed-records.com www.tremazul.com
Ljubljana (Slovenia): www.ljubljanajazzfestival.org
Mulhouse (France): www.jazz-mulhouse.org
Nickelsdorf (Austria): www.konfrontationen.at
Parthenay (France): www.cc-parthenay.fr/jazzengatine/
Tampere (Finland): www.tampere.fi/festival/music
Vancouver (Canada): www.jazzvancouver.com
Wels (Austria): www.musicunlimited.at